At Three Brothers Bakery, we truly do have the most creative, ingenious cake decorators and designers. No challenge is too big for them, nor is any idea too crazy. They can do just about anything, and we want to take a moment to give them the attention and praise they deserve.
Their work really does speak for itself, so here are some of their best cakes from the past year, from wedding and graduation cakes to birthday cakes, and everything in between.
Our decorators constructed this elaborate tugboat, named Miss Beverly, for Taylor Marine Construction, Inc.
Our decorators capture the personalities and interests of every bride and groom.
We love when we have the opportunity to support our troops. This cake was designed for a military commissioning from Baylor College of Medicine – and we even got it to them during the Memorial Day flooding!
We hope this cake helped Jennifer have a sparkling 21st birthday!
In Texas, Whataburger is the king of fast food.  And their food is not the only thing iconic about the restaurants – their A-frame buildings are so legendary that we have made a cake in its shape!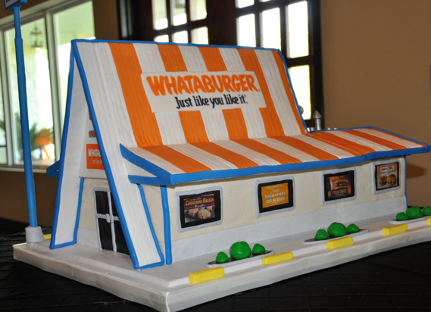 With Rodeo season right around the corner, this cake is the perfect way to express your Texas pride!
We love this sweet, buzz-worthy gender reveal cake!
Do you have an idea so crazy it just might work? Give our team a call at (713) 666-2253 to discuss pricing and how we can get the ideas rolling to make your dreams come to life!