"Gobble, gobble!" The more you hear friends and family making this noise, the closer we are to Thanksgiving! At Three Brothers Bakery, we know your holiday meals don't solely consist of the bird at the center of the table. We're here to help make Thanksgiving dinner as sweet as possible, from preparations to the meal itself and even leftovers!
We're sure you are ready to get to the pictures of our desserts – don't worry, those are coming! But before we get to the sweets, we would be remiss not to mention all our bread and roll options. Whether you need something to put your turkey on or just want a nice side dish, we have just the doughy delight for you!
These are also great to have on hand for Black Friday and through the weekend. After all, who can finish all the food on Thanksgiving Day?





But most of us really love Thanksgiving for the sweet ending of dessert, right? We have you covered there with a full range of delicious pies sure to please fans of the fruity, nutty, sour, tangy or sweet.
With so much to choose from, it can be overwhelming to choose just one pie. (Remember, you can always get multiple!) We say you can never go wrong with our award-winning pecan pie, but choose whichever pie best matches your table's tastes.
For those really looking to make an impression this holiday season, bring home our Pumpecapple Piecake! Standing 11 inches tall and weighing 23.5 pounds, this three-layer treat combines the many tastes of the season.
What makes up a Pumpecapple Piecake? First, we immerse the apple pie in a cake pan full of spice cake batter, complete with its lattice work top crust. Second, we add the pecan pie into chocolate cake batter. Finally, we drop the pumpkin pie into pumpkin spice cake batter. Then, after baking the cakes, we assemble the tower using cream cheese icing to hold each piecake layer together. To top it all off, we frost it with a cream cheese icing, trimmed with a hearty helping of pecan pieces and topped with a generous caramel drizzle.
No amount of words and images can do the Pumpecapple Piecake justice – you simply have to taste this for yourself!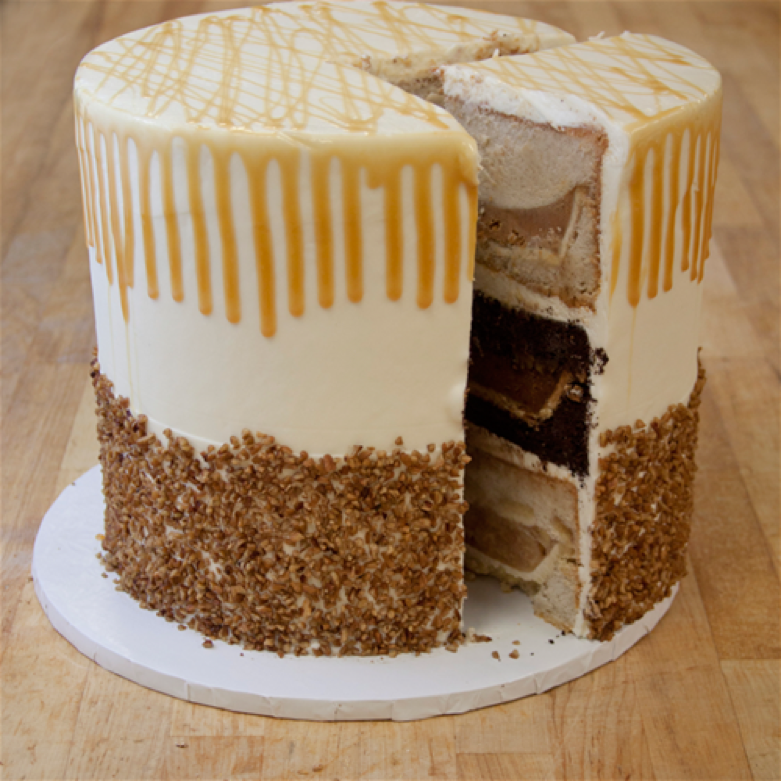 If you need to complete your table this holiday, see if we have the missing ingredient for your best Thanksgiving ever!